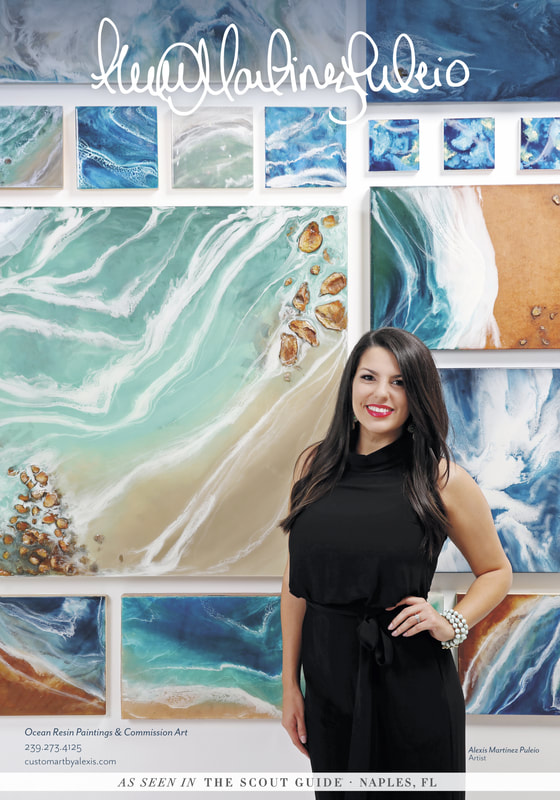 Alexis M. Puleio is a commission artist in Naples, Florida. In addition to her studio work, she actively participates in Naples' Third On Canvas art event each year on Third Street South, and is a member of the Naples Art Association.
Prior to rooting in Naples, Alexis attended Florida Gulf Coast University in Estero, FL, where she obtained a Bachelor Of Science degree in Biology and Chemistry in 2009.
As a Naples based artist, Alexis' current collection focuses on her series of aerial seascape paintings created in acrylic and epoxy resin, and a series of marine life subjects created in acrylics and watercolors. Bringing her love for nature to canvas, Alexis' artwork allows her the ability to explore different mediums, textures, and movements in her art.
Artist Statement:
My artwork links the visual based emotion that is created when you are flying in an airplane, and look out of the window, and see a beautiful coastline, where the waves are crashing and you wish you could reach down and run your hand over the surface of the water, and the actual physical act of doing so. My aerial ocean resin paintings are created in a way to make you feel like you are looking down from a birds eye view. They are tangle pieces, some with topographical surface texture. I tint my epoxy resin, manipulate it in a way that it looks like you can see the depth in the water, with whitewash waves, that occasionally crash into my handmade rocks near the shoreline. Each piece is finished off with a blowtorch to give it a glass finish.I strive to bring that "Oh, I wish I was there" feeling you get when looking at paradise, into a home.
Please visit my
online art gallery
to view my existing
canvas paintings
and
commissioned custom artwork
.
XO
Alexis
Current Representation:
The Eydel Fine Arts Gallery
, located at 800 5th Ave South, Suite 101, in Naples, FL.
​
Past Representation:
The Ritz Carlton of Naples
, starting on December 17th, 2016 - September 2017.
---
---
A small video clip below from my solo exhibition at Polk State College - Winter Haven, FL - September - October 2016